Resources to Help Build Your Online Business Faster, Smarter
"Do you know how to make money with your blog?
Unfortunately, many bloggers can't honestly answer that question with a confident and resounding, "Yes!"
There's a common misconception that if you write well, then you'll generate money with your blog. However, that's just not how it typically works! When you're trying to monetize your efforts, you will do better if you have a strategy.
The good news is that monetizing your website or blog doesn't have to be complicated. You don't even have to create your own products. You can usually generate income simply by writing about other people's products and services that you already use and love. This is called affiliate marketing.
Lots of great companies are looking to partner with bloggers for affiliate marketing campaigns. The win for these companies is the ability to attract new customers thanks to bloggers like you who promote their offers. The win for you is making a commission off of the sales that come from your website. An added bonus is that you get to help others by sharing your experiences and knowledge.
So, let's talk about how to write blog posts that can produce substantial income by promoting your favorite products and services. Here are four types of money-making articles to consider writing (along with examples of successful articles that you can easily reverse engineer!)."
Read the whole thing here.
Fast Start Blog Says:
Great article from the team that develops my all-time favorite page builder plugin,
Beaver Builder
. I built this site with the Beaver Builder theme, the Beaver Builder plugin and the Beaver Builder themer plugin.
Recommended Resources: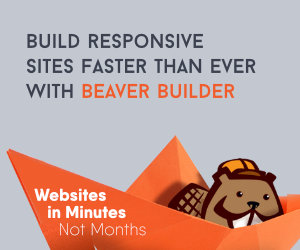 Source
---